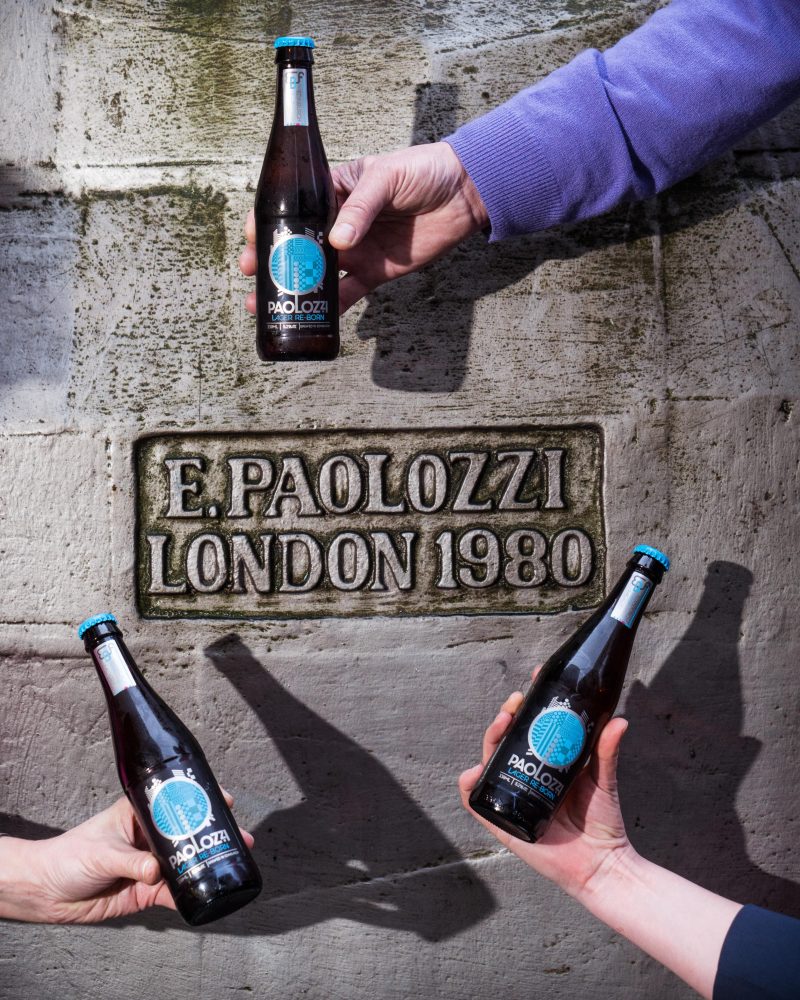 From the colourful mosaics of Tottenham Court Road Underground station to the mighty 'Newton' sculpture outside the British Library, Paolozzi's work is already an everyday part of London. And with the Whitechapel Gallery opening its 'Eduardo Paolozzi' exhibition today, it seems about time Paolozzi lager made its debut in the Big Smoke.
The Whitechapel Gallery's exhibition is the first major retrospective of the artist's work in over 40 years, and has already garnered rave recommendations from press including The Times, Telegraph, Evening Standard, Metro, Londonist and TimeOut. Edinburgh Beer Factory is a proud supporter of the exhibition (in addition to the charitable donations we make to the Paolozzi Foundation, a major Whitechapel sponsor, for every bottle and pint of Paolozzi lager that we sell) and were treated to a sneak preview last night, where the visual feast was enhanced by plenty of Paolozzi lager to delight the tastebuds. From concrete sculptures to cotton frocks, the exhibits show Eduardo's open-minded eclecticism in all its glory, with the idea of reinvention and revealing the "sublime in the everyday" the common thread.
The exhibition runs until 14th May. More info here. You'll be able to buy Paolozzi lager in bottle from the gallery's cafe-bar and gift packs from their bookshop, plus, on the first Thursday of every month in March, April and May, we'll be along to give out Paolozzi lager samples at late night openings.
Next week takes us from art to craft, as we make our debut at Craft Beer Rising. Come see us at Stand 81 from Thursday 23rd – Saturday 25th February. Craft beer, cider, street food and DJs make a wonderfully heady combination in the remade/remodelled Old Truman Brewery.
If any of the above tickles your fancy, pay a visit while you're in town to one of 17 bars serving Paolozzi lager on tap for the duration of the Paolozzi exhibition:
We'll be dropping in for Meet the Brewer and sampling events, so locals keep an eye out for those.
And if it's bottles you're after, head to Albion (Clerkenwell, Shoreditch and Bankside), Parabola restaurant at the spanking new Design Museum and off-licences Kill the Cat and Royal Mile Whiskies. All our stockists are mapped out here.
Speaking of maps, you could take yourself on a city-wide Paolozzi tour, taking in some of these artworks dotted about the city, with refreshment breaks at Parcel Yard, Kings Cross (for Newton and Piscator), The Gun or The Pilot (for Vulcan at Victoria Dock). If you do (or simply enjoy a pint somewhere), let us know via Facebook, Twitter or Instagram by mentioning @edbeerfactory with the hashtag #PaolozziLondon. We'd love to see your pics, and will be awarding prizes for some of our favourites.
Look – even Newton's had a cheeky go.